westward bound part 2
i did say there was more, right? a whole separate story? yes. after spending 3 weeks in the valley outside hoehnecolorado where everything is brownish and dryish and flatish, mae and i loaded up the car and headed north. my dad was sad to see us go and made sure to tell me so - but we needed to head out for one last stop before rushing home in hopes of beating yarn support to my doorstep - we also needed to find internet and printers for contracts and other boring things like that waiting in my inbox.
we made the four hour drive to boulder and found the bakery easily - went in and ordered tea, then went on the hunt for a rest room because mae is really, really good at having to go at the most in-opportune times. as we peeked into this store front and that… i spotted a bookstore and thought it looked promising. it was - and it had a restroom - and it was the trident - and i almost died and laughed and cried and texted heather right away to tell her about it. my long-time blog friend, heather. she writes about/at the trident often and for me, the place was a celebrity in it's own right. how did we happen upon it so coincidentally? it was kismet. we were in boulder to visit and stay with heather and her family - which maybe was quite strange. her husband, david met us first and said very plainly, "so, i don't actually know you. i mean, i read your 'about me' on your blog" he just went ahead and said it. bless him for doing it. we both commented on how we were looking for each other wondering if that person could be them or that one… and then when we saw each other it was quite clear. what a ride that first meeting was. heather arrived and i hugged her straight away. sisterhood across thousands of miles and countless bobbins of thread finally pulled together and touching.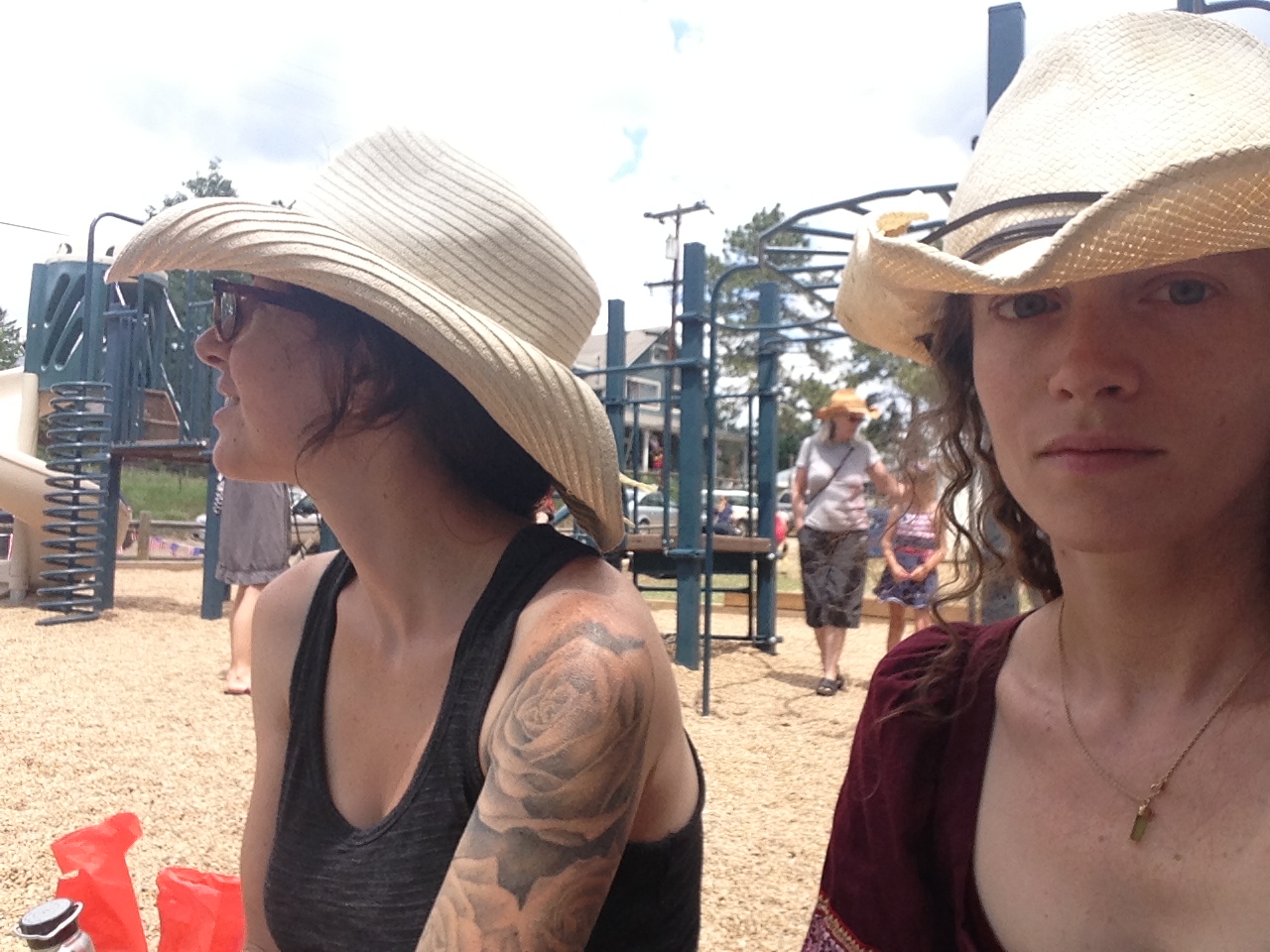 (i shamelessly stole this picture from her. i love it. it's one of my all-time faves & it reminds me of david saying, "i'm glad you guys wore the same hat today" - how many times do you think he was gonna give me some cuddles by accident??? HA!)
we followed her half way up the mountain - mae in the back seat saying, "the kids in my class never saw mountains like this!" nope. we come from flat lands. and though i was born in colorado & spent summers in evergreen with my uncle, i'm removed from the mountain. it was enchanting following the blind curves around cliffs and crags upward.
i wondered how the children would react to us and our strange familiarity. mae and olive are the same age and they have been internet friends from the start. mae tells her home friends all about her far away friend who has a pet wallaby and burned her legs once. they seemed to know each other just the same as heather and i did. heather said they were soul sister-ish. yes. spot on.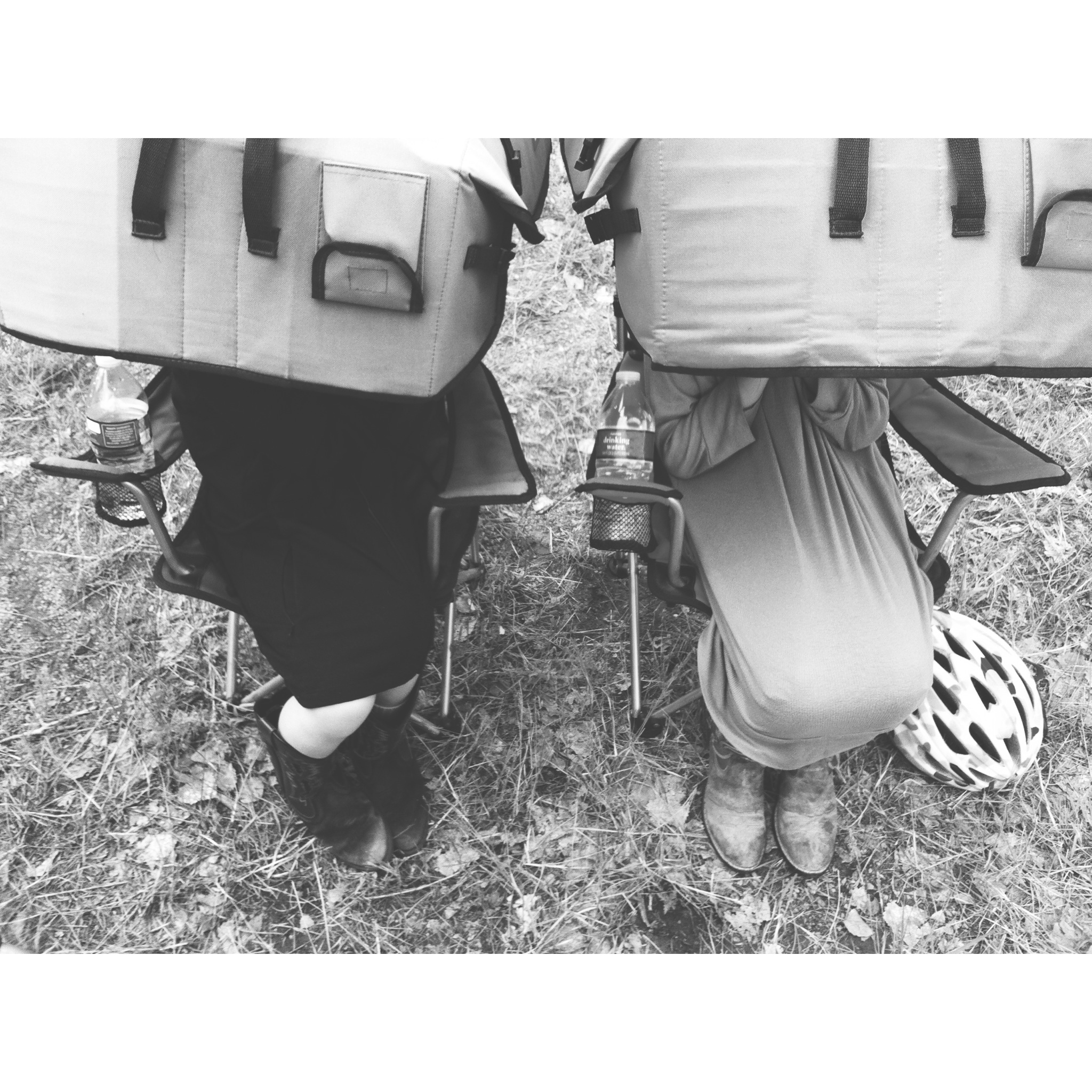 heather and i sat on the porch swing and silently sipped beer just being together when max came out with an animal book and asked if he may sit between us. i loved him at hello. i mean, i loved him before, too but his energy and voice and the way he said my name… loved that boy. he sat with me during the fireworks and held my hand. his smile was like the gates of heaven opening (thanks van). he asked the best questions and had some pretty great answers, too. i asked him if he would come home with me. i even told him he could drive.
at dinner zhi sat across from me and sort of stared at me for a long time. i chatted with her a bit but she was focussed and it was clear she had something on her mind. i let her chew it over and stare. suddenly her eyes brightened - "you're pinkbrutus!" yep. i am. "that's where i know you from! OK." mystery solved. she's a watcher and a listener just like me. she absorbs her environment and takes notes. you really must watch out for clever girls like that. she calmly mediated a conflict between the other three about seating arrangements on the way home from the fireworks. i was becoming exasperated so when that little lady stepped in and set things straight i told her i loved her. "oh my zhi. i love you." she was taken back by my verbal affection and stuttered a thank you. the best. i know she loved me, too because she gave me the warmest hug goodbye.
olive and mae spent most of the time on the roof having tea parties. that olive knows how to pack for a tea party. i think she must be part fairy. i always thought mae was the giggle monster of all giggle monsters, but she met her match with olive. them in the tub - giggling to high heaven - was contagious. we were all giggling a little just at their bubbling voices. one morning she and mae were on the roof and mae called down that the view up there was beautiful. "you can see all the mountains up here, mama! can i take a picture?" ugh. it was too good. all of it.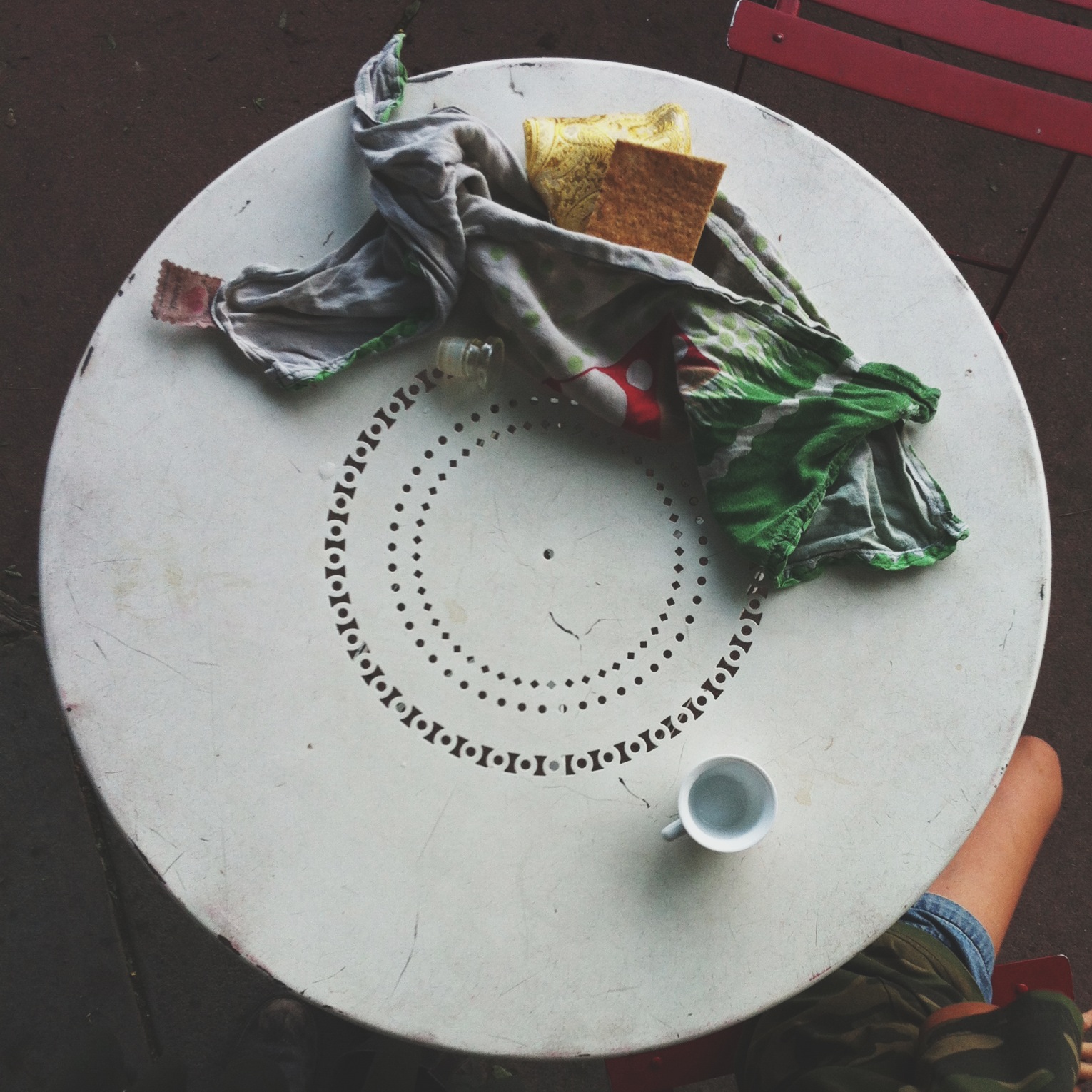 i had told nate about how weird it felt to be going there to be with them in the real world - 3D because when you email and talk on the phone and follow each other on instagram you have a sense, but when your energy meets, all bets are off. my worst fear was that we wouldn't vibe. the total opposite was the case and it all felt shockingly familiar. we went up the mountain for pancake breakfast and a parade. the little girls were sitting on a large rock back to back and a woman came over and asked if she could take their picture. "they're just so sweet sitting together that way." indeed they were. mae joined the kids in the parade and we all cheered from the sidelines. heather's mom and i talked a long time about sewing and knitting and parenting and fucking up our kids. it was too good eating it up. when i finally made my way back up to our little perch heather and david asked if i had gotten lost. no. i think i've been found.